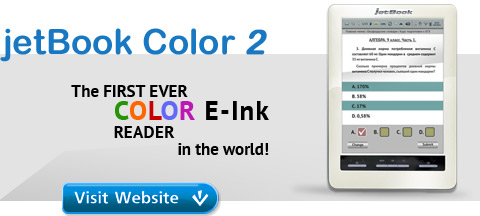 Sales inquiries: call us at 1-347-728-1354 or e-mail us.
ECTACO jetBook Color 2
The ultimate solution for classrooms worldwide. Already implemented in Eastern Europe and Asia, the jetBook Color is the only eReader system in the world currently using a full Color e-Ink screen and comes set to each individual students needs right out of the box. Full speech recognition and fluent Text To Speech (TTS) make this unit completely interactive. Notes can be added on screen to any text, with the ability to highlight, save, and even make summary pages. Teacher connection allows lessons and tests to be distributed and displayed on screen alongside the ability for students to submit all homework through the unit instantly. Each student has their own personalized home screen they can modify and link to their class schedule with hundreds of additional built-in features and functions. The jetBook Color is the ONLY ereading tablet you should consider for use in your school.
CES 2012 Innovation Award Winner
Ectaco jetBook Color on Fox News
Price:


$

Buy now!
Buy now!
Price:


$

Buy now!
Buy now!
Learn more about ECTACO jetBook Color 2
ECTACO jetBook K-12
The World's First Educational eBook System. The technology blows backpacks out of the water and makes everything available all on one device. Fully interactive and speech recognition ready, you talk to the jetBook K-12 and it will understand you. It's loaded with full language learning classes, SAT prep courses, graphing calculators, textbooks and reading books for all 50 states, speed reading courses, dictionaries, phrasebooks, translators, and so much more. The jetBook K-12 is the best solution for learning inside and outside the classroom.
Price:


$

Buy now!
Buy now!
Buy now!
Price:


$

Buy now!
Buy now!
Buy now!
Learn more about ECTACO jetBook K-12
ECTACO jetBook mini
The days of the $119.95 eReader are finally here! Not only is the jetBook mini the most affordable eBook reader in the world it is also the first to use 4 AAA batteries for days of continuous reading and years of standby. Adding books is easy, all you have to drag from your PC to the jetBook mini and you're all set. Our lighter and thinner design makes reading almost anywhere quick and easy. The specialized LCD screen lets you read for hours on end with no eye fatigue or lag in page turn like eInk. With an SD card slot, you can expand the jetBook to up to 2GB of storage. Check out some more specifics below!
Price: $
Miami Blue
Buy now!
Lime Green
Buy now!

California Yellow


Buy now!

Anthracite Black


Buy now!
Apple Red
Buy now!
Royal Blue
Buy now!
Salmon Pink
Buy now!
Alaska Gray
Buy now!
Features
Screen: 5" TFT LCD screen
Weight: 5.8 oz
Battery: 4 AAA batteries. 90 hours reading. 2 Years standby
SD card slot: Expandable up to 2 GB
Font Size: 16pt – 32pt
LIT, MOBI, EPUB, HTML, PRC, RTF, PDB, PDF with Calibre file conversion to TXT and FB2 Click here to download a step by step conversion guide
All way reading angles so you can read your book in any direction
Text alignment, font spacing, and line breaking
Interface language: English, French, Italian, Portuguese, German, Spanish, Polish and Russian
Learn more about ECTACO jetBook mini
ECTACO jetBook
Now pre-installed with Adobe DRM
jetBook is the only eBook Reader in the world to support ePub, Mobi, PRC, RTF, Adobe DRM, .txt, .pdf, .fb2, .jpg, .gif, .png, and .bmp - the widest array of file formats able to be displayed by a single device!
eBooks have been around for a while but it is only with the ECTACO jetBook that they have truly come of age. The newest generation of handhelds offer all the latest advances in the world of e-reading including the most advanced display technology. jetBook not only turns pages but provides a crisp, clear image on a larger display screen that is easier to read than any paper book ever was. jetBook also offers everyone incredible opportunities for translation and learning with its pre-loaded translating dictionaries. An mp3 player rounds out the advanced features to let you listen to your favorite audio files as you read. jetBook is fully compatible with both Mac and Windows-based PCs, as well as Linux operated computers. The ECTACO jetBook eBook Reader supports .txt, .pdf, .fb2, ePub, Mobi, PRC, RTF, Adobe DRM, and .jpg file formats.
Features
Support for eBook contents in Russian, Polish, English, Spanish and other languages
Bidirectional dictionaries for certain European languages are available
Supports books in all popular, widely used formats
Bookmarks and auto page turn functionality
Adjustable font type and size
Screen rotation support for both portrait & landscape modes
Built-in MP3 player that supports background playback
SD card slot
Internal Li-ion polymer battery
ECTACO jetBook LITE
Now pre-installed with Adobe DRM
Support for Adobe Digital Editions (ADE) ePub Files
and Barnes & Noble ePub Books
ECTACO is happy to present you its second line of electronic eBook readers: ECTACO jetBook LITE – the most affordable eBook Reader on the market with better performance than in most of its competitors.
The main difference between the ordinary jetBook and the jetBook LITE is the fact that the accumulators are replaced by usual AA batteries which does not only make it possible to reduce the price, but to also economize energy used by the screen. Now you can read not 20, as it used to be, but 23 hours nonstop without a recharge. (Please, note, that ordinary rechargeable batteries can be used as well.)
Price: $
Features
Support of ePub, Mobi, PRC, RTF, .txt, .pdf, .fb2, .jpg, .gif, .png, and .bmp file formats
Support of eReader (PDB) DRM format through Ereader.com and Fictionwise.com
True pocket-sized portability for thousands of eBooks
Support for eBook contents in Albanian, Catalan, Danish, Dutch, English, Faeroese, Finnish, French, Galician, German, Icelandic, Italian, Norwegian, Portuguese, Spanish, Swedish, Croatian, Czech, Estonian, Hungarian, Latvian, Lithuanian, Polish, Romanian, Russian, Slovak, Slovenian and other European languages, additionally, jetBook supports Arabic, Farsi, Vietnamese and Hebrew.
Bidirectional dictionaries for certain European languages (incl. German and Spanish) are available
Multilingual interface options that include German and Spanish
Pre-loaded CIA World Factbook
Bookmarks and auto page turn functionality
Adjustable font type and size
Screen rotation support for both portrait & landscape modes
SD card slot
Batteries 4xAA (ordinary rechargeable batteries can be used as well)
Learn more about ECTACO jetBook LITE